Plastic Welding Kit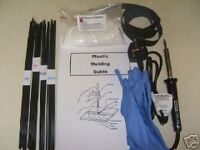 Are you fed up with trying to glue plastic and it breaking time and again?
Have you paid out for bumper repair or fairing repair when you have thought that you could do a better job yourself?
Then now is your chance to buy a kit that will do that and much more.
With this kit, you can weld and repair the most common types of plastic in use today.
This includes; fairings, side panels, indicators, clock surrounds, bumpers, header tanks, plastic trims, plastic wings and even plastic pipes.
With the kit comes a detailed guide that tells you firstly what items are usually made from which plastic and how to identify them.
It also shows you how to prepare and repair the item and also gives advice on possible ways of preventing stress fractures.
Included in the kit;
A plastic welder

2 metres of ABS welding rods (black)

2 metres of

PP welding rods (black)

2 metres of

PE welding rods (black)

2 metres of

PVC welding rods (black)

A plastic welding guide

Cleaner/degreaser

An abrasive cloth

Nitrile gloves
Replacement rods can be bought at a good price.
Check out our other ebay items.
Price £24.99